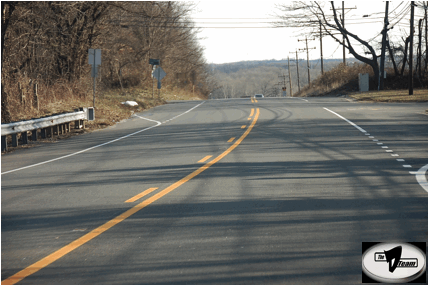 IMPORTANT: Passing and being passed can only occur on two-way roads. A two-way road is a road that has two single lanes of traffic traveling in opposite directions (see picture above). A passing maneuver always requires a return to the original lane.
"Smart Defense" by the "The D Team" will now provide the following suggestions for motor vehicles being passed on the left while traveling on a two-way road — picture above.
Generally maintaining your same speed is the preferred procedure when being passed on the left. By doing this you will allow the vehicle operator executing the passing maneuver the best opportunity to complete the passing maneuver with the least amount of risk.
However, there is a potentially dangerous occurrence that can take place during this passing maneuver identified herein as "speed matching". The "speed matching" occurrence generally takes place following a poor decision by the operator of the left passing vehicle. The operator of this passing vehicle suddenly reaches the decision that there is not enough space/time to complete a safe pass and begins to slow down. Unfortunately, the driver of the vehicle being passed recognizes the lack of space/time to complete a safe passing left maneuver and also begins the slowing process — "speed matching".
If you are the driver being passed and there is a clear right shoulder then moving onto the shoulder area may be the safest solution. If no shoulder area is available then — good luck. Hopefully the "speed matching" would cease — "THERE ARE NO ABSOLUTES".

SPECIAL ADVICE: This advice applies to a motorists traveling in the opposite direction from a vehicle who is making an unsafe passing maneuver. Please don't go to the movies! The moving picture to the front involving an opposite direction unsafe pass can be mesmerizing – especially to a new driver. Saying to yourself — "he/she is not going to make it" will not solve the impending danger. Make something happen to lessen the risk of becoming a statistic. SLOW DOWN – remember the driver heading toward you has made a bad decision, but you should not be required to pay the price. If there is a clear right shoulder then move over to further help. Once again — "THERE ARE NO ABSOLUTES".