HEADLIGHTS/WINDSHIELD WIPERS: What is Delaware Law?
THE ANSWER:
TITLE 21
Motor Vehicles
Operation and Equipment
CHAPTER 43. EQUIPMENT AND CONSTRUCTION OF VEHICLES
Subchapter II. Lights
§ 4331. When lighted lamps are required.
(a) Every vehicle upon a highway within this State at any time from sunset to sunrise, or during fog, smoke, rain or when windshield wipers are in use because of weather conditions or at any other time when, due to insufficient light or unfavorable atmospheric conditions, persons and vehicles on the highway are not clearly discernible at a distance of 1,000 feet ahead shall display lighted lamps…
(b) The portion of subsection (a) of this section criminalizing the failure to display lighted lamps and illuminating devices when windshield wipers are in use because of weather conditions shall constitute a secondary offense in that no person shall be stopped by a police officer for that failure alone.
IMPORTANT: A major purpose of lighted lamps (headlights) is so other roadway users can see you. Certainly during night driving the vehicle headlights also serve a viewing purpose for the vehicle operator. Rain, fog, sleet or snow are all examples of conditions when your low beam headlights should be used to increase your visibility to others (high beam headlights will not increase your viewing capacity during these poor weather conditions and may in fact decrease it due to reflection). Use your lights – they are a major component of the "Gift of Life". See pictures #2-14 & #2-15 below:
Picture #2-14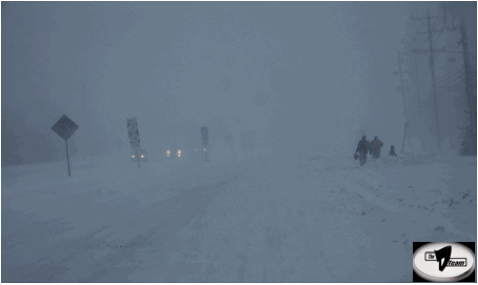 Picture #2-15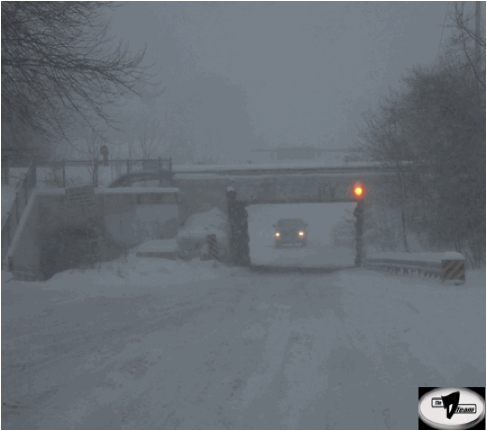 IMPORTANT: While lowering the headlight high beam requirement when approaching within 500 feet of opposite direction traffic is the law and sounds good, in reality it is far too difficult to determine.
"The D Team" takes the position it is "Smart Defense" to deactivate your high beams whenever the approaching vehicle is in sight. The same lowering high beam technique is true for a vehicle to your front traveling in your same direction.